Praised for her "communicative, emotionally intense expression" (Jerusalem Post) and "technical wizardry and artistic intuition" (Herald Times), harpist Emily Levin has forged a multifaceted career as a soloist, orchestral musician, chamber collaborator, artistic director, and advocate for new music. 
The only American to receive top prizes at two of the most prestigious international harp competitions, Levin won the 2013 Bronze Medal at the 9th USA International Harp Competition, and at just 18 years old, was named a finalist and Renié Prizewinner at the 2009 International Harp Contest in Israel.
Levin is now in her seventh season as principal harp with the Dallas Symphony Orchestra, where she holds the Elsa von Seggern Chair. She has also served as guest principal harp with the Boston Symphony Orchestra, Los Angeles Philharmonic, and Houston Symphony, and appears regularly with the New York Philharmonic.
As a soloist and chamber musician, she has performed at leading venues throughout North America and Europe — including Carnegie Hall, National Sawdust, Bravo! Vail, the Kimmel Center, and the Festspiele Mecklenburg-Vorpommern in Rugen, Germany. At the request of conductors Jaap van Zweden and John Adams, she has twice appeared as a soloist with the Dallas Symphony. Other concerto engagements include performances with the Jerusalem, Colorado and West Virginia Symphonies; the Louisiana Philharmonic; and the Ojai Festival and Lakes Area Music Festival. 
Guided by her mission to expand the harp repertoire, Levin works extensively with established and emerging composers alike. In 2021, she founded GroundWork(s), an initiative commissioning 52 American composers — one from each state, plus Washington, DC, and Puerto Rico — to write new works centered on the harp. Recent and upcoming commissions have included works by Angélica Negrón, Reena Esmail, Michael Ippolito, Aaron Holloway Nahum, and Jerod Impichchaachaaha Tate.
Levin's 2023/2024 season also include joining the Boston Symphony as guest principal harp for their fall European tour, performances of Dylan Mattingly's Lacrimae Rerum for two harps and two detuned pianos at Los Angeles's Green Umbrella, and a North American tour of Karlheinz Stockhausen's Freude with harpist Michelle Gott.
This season will also bring the release of a new album of trios for harp, violin, and cello featuring Levin alongside violinist Julia Choi and cellist Christine Lamprea. Slated for a spring 2024 release on Azica Records, the new album will include music of Henriette Renié and Reena Esmail, as well as Angélica Negrón's Ave del paraíso, a work commissioned and premiered by GroundWork(s) in San Juan, Puerto Rico.
In Dallas, Levin is the artistic director of Fine Arts Chamber Players (FACP), which presents local musicians in a series of free chamber music concerts tailored to families and children. In building FACP's 2023–2024 season, Levin has centered programming on the theme of "The Ties That Bind," exploring the threads that connect us to each other and the larger world. 
Levin was a winner of the 2016 Astral Artists National Auditions and was named the Classical Recording Foundation's 2017 Young Musician of the Year for her debut album on Iris Records, Something Borrowed.
A committed educator, Levin is currently an adjunct associate professor of harp at Southern Methodist University, a faculty member at the Aspen Music Festival and Young Artist's Harp Seminar, and will serve as a guest professor of harp at Baylor University for the fall 2023 term. Levin has led master classes at the New England Conservatory of Music, Northwestern University, Puerto Rico Conservatory, and the Universities of Arizona and Ottawa.
She received her Master of Music from the Juilliard School under the tutelage of Nancy Allen, where she was a teaching fellow for both the Ear Training and Educational Outreach Departments. A self-described bookworm, Levin completed undergraduate degrees in music and history at Indiana University with Susann McDonald. Her honors history thesis discussed the impact of war songs on the French Revolution.
Emily lives in Dallas with her husband, composer Jonathan Cziner, and their dogs Charlie and JoJo.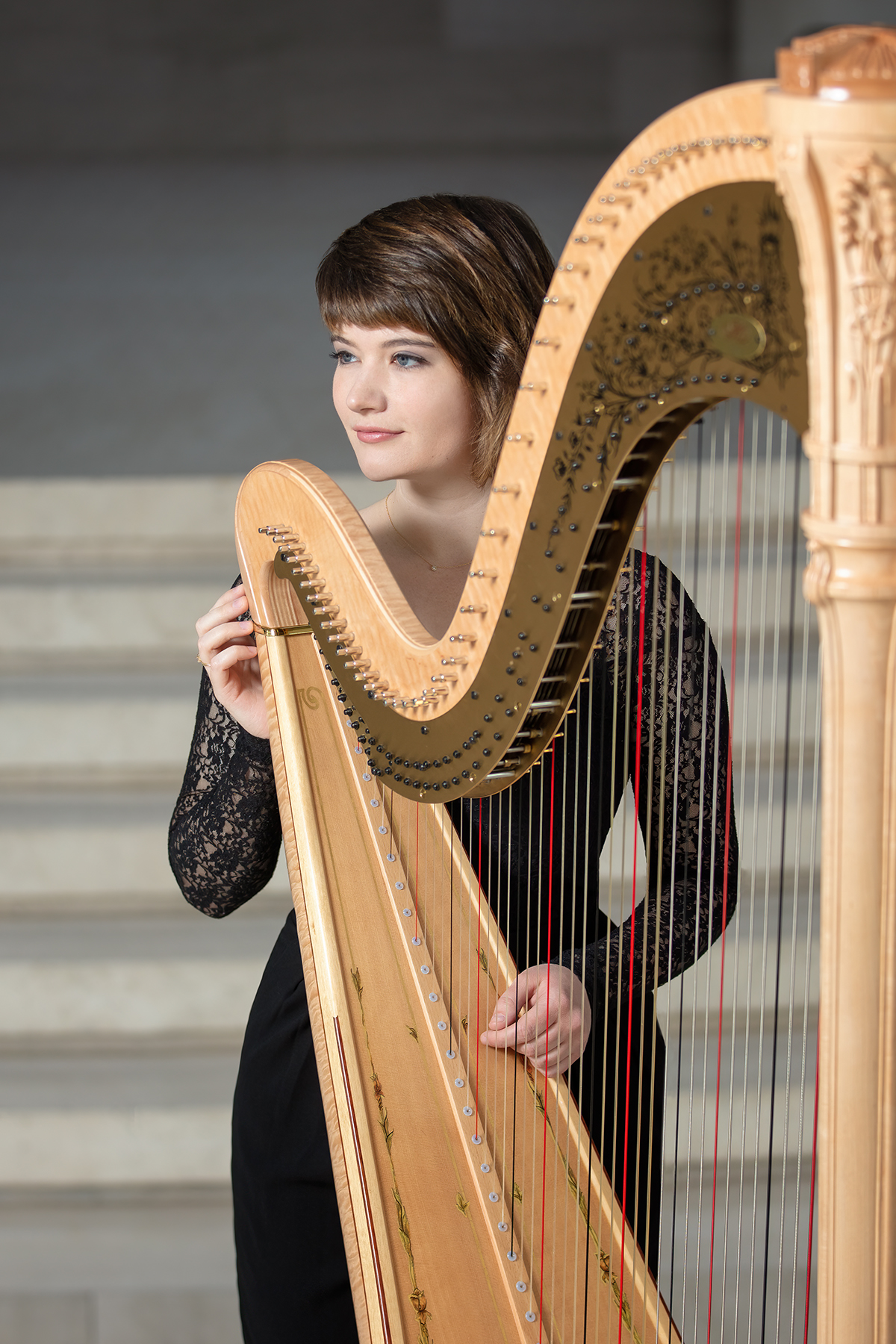 Levin's playing was appealing and sure— she evoked a variety of tonal colors, was technically and musically rock-solid, and displayed a delightful stage presence, to boot.

— Theater Jones
Emily Levin played exquisitely.


—Dallas Morning News
Levin's playing was appealing and sure— she evoked a variety of tonal colors, was technically and musically rock-solid, and displayed a delightful stage presence, to boot.

—Theater Jones